ESLINGTON PARK ROAD BRIDGE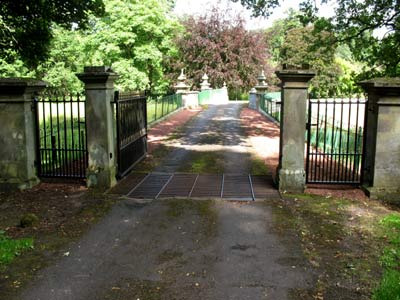 "Where the river wends through Eslington Park the trees and meadows are orderly and Eslington Hall fits in very aptly."

The English Gate. F.A.Wills. 1947.
This bridge gives access to Eslington Hall and replaced the old Lady's Bridge which is no longer in use. Eslington Hall is an 18th century mansion built for Sir Henry Liddell. The other buildings and bridges were built later, about 1858, for the first Baron Ravensworth. A Border tower existed here in the 15th century, owned by a family called Eslington, thereafter owned by the Hazelriggs, Herons and Collingwoods and eventually it came into the hands of the Ravensworths in 1718, after confiscation due to George Collingwood's part in the 1715 Jacobite rebellion.
Eslington Hall dates from about 1720 with extensions being made in 1797 and 1858 consisting of stables and offices.
Eslington Park Road Bridge Facts
Constructed - not known

Type - beam, steel girder, stone abutments.

Position: Eslington Park, Northumberland.

Grid Ref: NU 042 119



Eslington Park and Road Bridge